Undercover investigative gem, Anas Aremeyaw Anas together with his Tiger Eye Pi team went beyond the ordinary to unravel the good, bad, and the ugly side of wack and quack herbalist who taught it wise to exploit the masses with an unregistered herbal medication said to be the cure for the novel coronavirus pandemic.
A section of the Ghanaian population who goes with the belief that the works of the criminal investigative works of Anas are pure unprofessional even from the onset thrashed Anas the latest investigative piece as they condemned him of forcing people to take bribes.
Some citizens are also with the cry that the award-winning investigative mastermind is giving Ghana a bad image to the outside world as his attempts over the years has painted the country to foreigner preventing tourist from coming into the country.
One comment from a family member of the arrested herbalist who goes by the name Abdul has drawn a bigger circle dragging Anas and his entire generation to their god for revenge.
According to Abdul, Anas forced his uncle to accept the money and there is more to the story that Anas has refused to make known.
Check out Abdul's reaction below: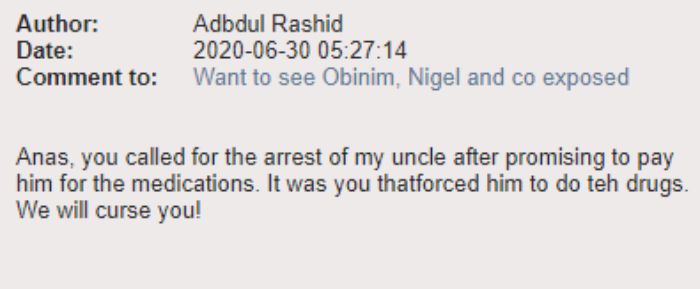 Source: TheBBCghana.Com