Jerry John Rawlings affectionately called J.J Rawlings is a military and political leader in Ghana who twice (1979, 1981) overthrew the government and seized power. He was born on June 22, 1947, in Accra, Ghana.
His second period of rule (1981–2001) afforded Ghana political stability and competent economic management.
Rawlings was the son of a Scottish father and a Ghanaian mother. He was educated at Achimota College and the military academy at Teshie. He was commissioned a second lieutenant in the Ghanaian air force in 1969 and became a flight lieutenant and expert pilot, skilled in aerobatics. In June 1979 Rawlings and other junior officers led a successful military coup with the purported aim of purging the military and public life of widespread corruption.
He and his Armed Forces Revolutionary Council ruled for 112 days, during which time the former heads of state, Gen. Ignatius Kutu Acheampong and Lieut. Gen. Frederick W.K. Akuffo, were tried and executed. Rawlings then yielded power to a freely elected civilian president, Hilla Limann, who promptly retired Rawlings from the air force.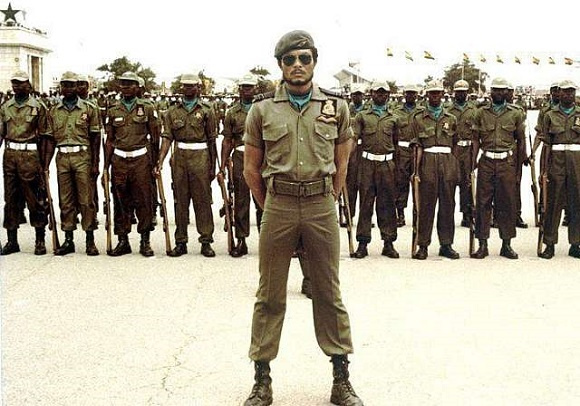 Rawlings continued to be a popular figure, however, and on Dec. 31, 1981, after two years of weak civilian rule during which Ghana's economy continued to deteriorate, Rawlings overthrew Limann's government, accusing it of leading the nation "down to total economic ruin." Rawlings established a Provisional National Defence Council as the new government and imprisoned Limann and some 200 other politicians. "Peoples' Defence Committees" were set up in neighbourhoods, as were workers' councils to monitor production in factories.
When the failure of these and other populist measures had become clear by 1983, Rawlings reversed course and adopted conservative economic policies, including dropping subsidies and price controls in order to reduce inflation, privatizing many state-owned companies, and devaluing the currency in order to stimulate exports.
These free-market measures sharply revived Ghana's economy, which by the early 1990s had one of the highest growth rates in Africa. In 1992, in the first presidential elections held in Ghana since 1979, Rawlings was chosen as president. He was reelected in 1996 and stepped down from the presidency in early 2001.
Parents of Jerry John Rawlings
Jerry John Rawlings is the son to Victoria Agbotui, who hails from the Volta Region of Ghana. Jerry John Rawlings father is James Ramsey John, a chemist from Castle Douglas in Kirkcudbrightshire, Scotland. His father married someone else in England, and his descendants now live in Newcastle London.
The wife to the former president of Ghana is Nana Konadu Agyemang Rawlings whom they met when attending Achimota school. They got married in 1977, and they have four children together. While serving the country as the first lady, her work of women emancipation at every level of development level was recognized globally.
She was also in the forefront to ask countries abroad to invest in Ghana. This was during tours she took with her husband to the United States in the 90s.
Daughters of Jerry John Rawlings 
Despite being extremely active in politics, Jerry John Rawlings managed to balance fatherhood. After getting married to his wife in 1977, they were blessed with their first child, Emanatory Rawlings in 1978. Later two daughters Yaa Asantewaa Rawlings and Amina Rawlings were born.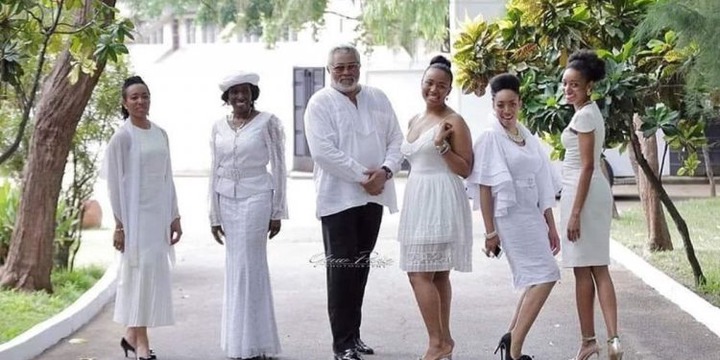 Their only son was named Kimathi Rawlings, and they have succeeded in leading a quiet life, away from the public domain. Currently, JJ Rawlings daughters are affluent people in society, each succeeding in the different fields they chose.
Zanetor Agyeman Rawlings is known for championing for the rights of women and children in Ghana. Through her, several foundations have come up to ensure the rights of women and children are upheld.
Unlike her father, she kept away from politics and found solace in humanitarian work. During the unfortunate Goil Oil flood and fire incident, she was at the forefront of ensuring the affected families got relief food. The apple does not fall far from the tree, she vied for the parliamentary seat for Klottey Korley Constituency and won. Could she be following in the footsteps of her dad? Time will tell.
Dedan Kimathi Rawlings was named after Kenyan freedom fighter Dedan Kimathi. He is the last born and the only son to the former president of Ghana Jerry John Rawlings. Despite being the president, he ensured to keep his family away from the prying eyes of the paparazzi and the public.
Source: TheBBCghana.Com