Over 21,000 coronavirus cases have been reported in Africa, with 5,000 recoveries and 1,000 deaths, the World Health Organisation (WHO) has said.
The organization has compiled a list of African countries experiencing this deadly disease with the number of cases reported.
In its list, WHO indicated that Nigeria's confirmed cases stand at 541, this shows that the list was compiled before Nigeria Centre for Disease Control (NCDC) gave its update on the deadly disease.
According to the NCDC report, as at 11:50 pm on Sunday, April 19, there are 627 confirmed cases of coronavirus in Nigeria.
In the list that was published by WHO, South Africa has 3,158 confirmed cases of coronavirus, Algeria has 2,629, Ghana has 1,042 as confirmed by theBBCghana.Com, while Cameroon has 1,016.
Check out the list below: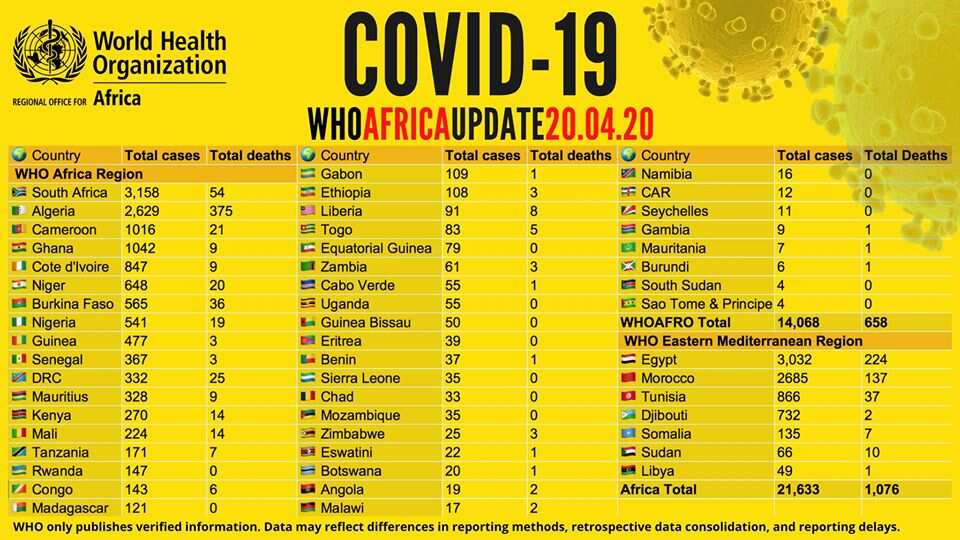 Source: TheBBCghana.Com