As a netizen, my quest to learn and get myself entertained on the internet landed me on a story worth entertaining but at first I thought it was just a joke until I read the story and the joy that came with it gave me the reasons to share it with you.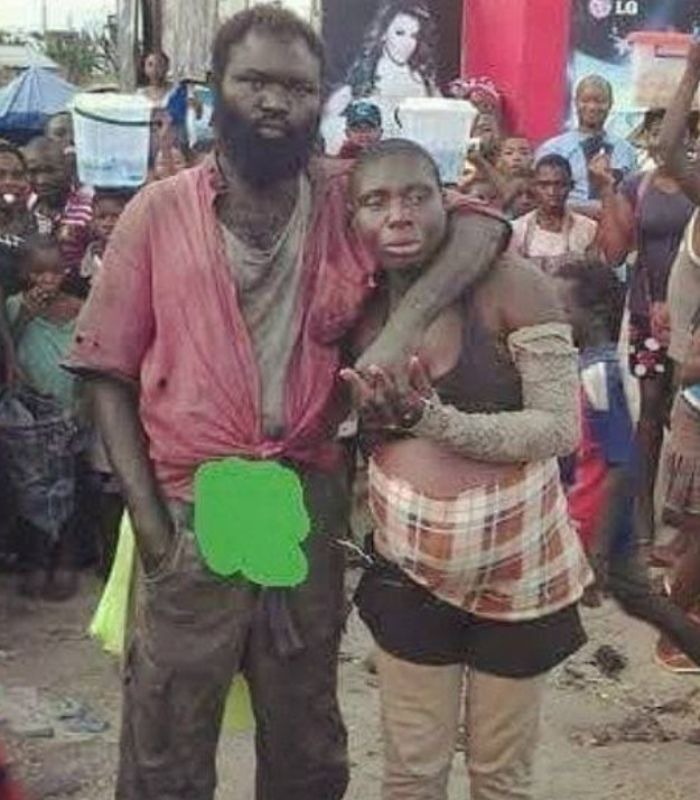 The story of a mentally challenged couple who were married for 23 years with 3 children.
I share the story with you below:
THE MAD COUPLE BONDED BY LOVE
Samde before he became mentally challenged was a graduate of a Nigerian University with a certificate in applied physics. Born with a natural wit, Samade was a fan of every villager for his abilities and talents but it was so unfortunate that his abilities and talents madness could not snatch away from him.
Samade with his mental state was known for his great dancing skills and melodious voice cannot be ignored by passer-by. He sings and dances without musical instruments yet those who listened and watched him wished he was not mad for the ecstasy he gave to them.
Samade's Love For Cynthia
It will surprise you to know that Samade found love in the sight of Cynthia, another madwoman. The two 'mad' love birds were enviable couples in the village.
The dotted lovers lived together in a self built self-contained under the popular bridge at Orile junction for 22 years. There were several times the villagers saw them quarreling but to the surprise of all no one knew how the two love birds settle their differences.
Unfortunately, Samade and Cynthia do not speak the same language. While Samade was from my village, Cynthia was from the eastern part of the country.
The two love birds stay together with love for more than 22 years and there was nothing like a grudge between the two.
How they consented to live as couple and had 3 children is a riddle no one is yet to solve. They lived under same roof in quote, they had no source of income other than begging, they have no common sense, lacked counsellors, never attended marriage classes, yet they lived together for 22 years uninterrupted.
Samade and Cynthia were the Romeo and Juliet of their world, a perfect match to a fault. Mad but proud of each other and their union. They were seen severally kissing, hugging, caressing and sharing romantic moments together in the village.
They shared all things in common, they bathed together, played together, ate together, entertained their guests together, fought together, smiled together etc. Samade and Cynthia were an epitome of uncoordinated romantic folks. If they were not mad, they would have won the best couple of the year's award.
Lessons In Samade and Cynthia's Love Story
"If the insane can sustain a romantic relationship, the sane should be able to do better". Unfortunately, most sane couples with common sense cannot stay together as husband and wife for 10 years without divorce or separation. Yet they have access to the good things of life. They have good shelter, good food, sound education, spiritual help, finance etc.
Samade and Cynthia over story inspired me when growing up in the village as a young boy. With this, I made a covenant with my maker that I will have an enviable marriage. I told myself when I was 17 that "if a mad man can do it, I can do it better because I am at better advantage".
Death Took Them Apart
With the news no one wishes to hear, Samade kicked the bucket on 24th July 20 while his long term lover Cynthia who couldn't cope with the loneliness also followed the call on 3rd September that very year. Their children were adopted by 3 different families whose lives were inspired by the romantic life of the mad couple.
Love they say have no boundaries as the two live and enjoyed their love life till death lived them separated.
Source: TheBBCghana.Com