Angel FM has interviewed a washing bay attendant who quickly returned a bag full of dollars worth GH70,000. Accordingly to him, he returned the bag to get a good name.
Unfortunately, he has been sacked by his bosses because he kept the money until the owner arrived.
Explaining his Ordeal, he elaborated that, he discovered the money bag after work on one fateful day. After opening it, he discovered it was full of dollars and few Ghana cedis. He counted it and it was worth 70, 000 Ghana cedis.The next day, the owner of the bag came looking for it. Everyone denied seeing it. The last person to be contacted was him. They telephoned him and he confirmed that the money was with him. He took it home because there was nobody around at that time. He late brought it to the rightful owner who was a pastor.

As surprised as the pastor was, he started throwing some of the dollars on him and blessed him for being so faithful ( video attached).

The next day, his boss called him ( the Good samaritan) and asked him not to come back to the washing bay again. His reason being that, when the money was seen, he should have handed it over to the station manager for safe keeping

However, he rather took it home. Efforts to explain that there was nobody around at that time proved futile. The young man Howeversays that, he is having no regret for returning the bag full of dollars.

You can click on the link below to watch the interview. It's almost 30 minutes long.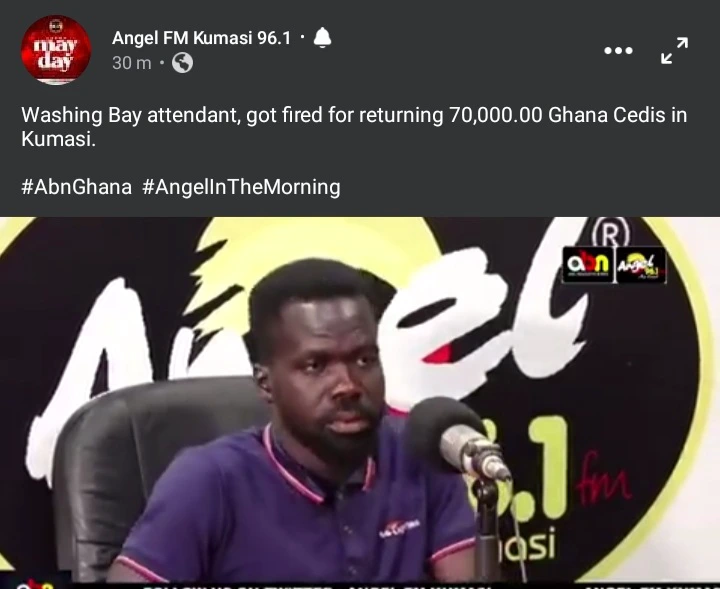 Source: TheBBCghana.Com