Professor John Evans Atta Mills was a Ghanaian politician and scholar who served as president of Ghana from 2009 to 2012.
J.E.A Mills was born on July 21, 1944 in Tarkwa, Ghana, and he met his untimely death on July 24, 2012, Accra, Ghana.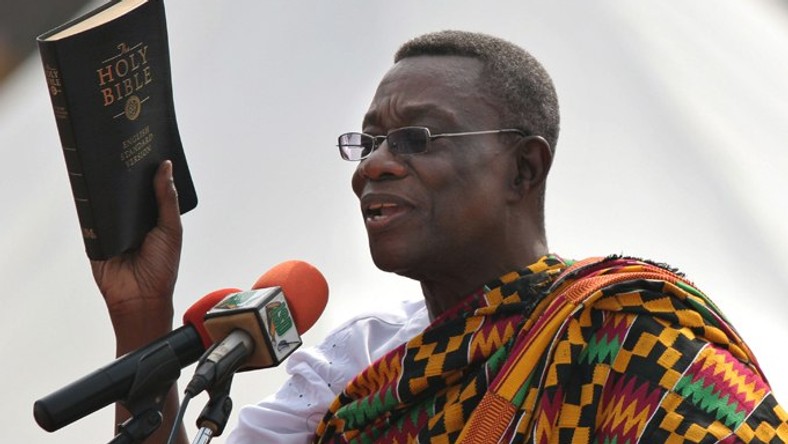 After secondary school, Mills studied law at the University of Ghana (LL.B., 1967), the London School of Economics and Political Science (LL.M., 1968), and the University of London's School of Oriental and African Studies, completing his Ph.D. dissertation (1971) on taxation and economic development.
On his return to Ghana, he taught law at the University of Ghana, where he remained for some 25 years. He also served on numerous boards and committees, occasionally acted as a visiting professor in the United States and the Netherlands, and published extensively on taxation, including the Report of the Tax Review Commission, Ghana (1977).
Mills eventually left academia to establish a distinguished career in public service. Appointed in 1988 as acting commissioner of Ghana's Internal Revenue Service, he eventually became (1993) substantive commissioner.
He stood as Pres. Jerry Rawlings's running mate under the banner of the National Democratic Congress (NDC) in the 1996 elections. They were victorious, and Mills took office on January 7, 1997, as vice president, a post he held until 2001. Mills was the NDC candidate for the presidency in the 2000 and 2004 elections, but he was defeated by John Kofi Agyekum Kufuor of the New Patriotic Party (NPP).
During his first two presidential campaigns, Mills had been roundly criticized for statements that if elected he would consult with Rawlings. When Mills was again the NDC candidate for the presidency in 2008, he distanced himself from his former mentor and campaigned on the slogan "I believe in Ghana."
Self-described as a social democrat who believed in the concept of social welfare espoused by Kwame Nkrumah (independent Ghana's first leader), Mills embraced a political platform that was more comprehensive and less divisive than that of either Nkrumah or Rawlings.
Mills's persistence and determination paid off when he won the 2008 presidential poll, defeating the NPP's candidate, Nana Addo Dankwa Akufo-Addo, by a narrow margin (50.23–49.77 percent). The election marked the second time in Ghana's history that one legitimately elected leader had handed over power to another.
It demonstrated that, after an era of coups and dictatorship (1966–92), democracy had been established and reinforced in the western African country, despite occasional eruptions of ethnic conflict and political tension.
On January 7, 2009, Mills was officially sworn in as president of Ghana. After his inauguration he set about to improve the socio-economic situation of ordinary Ghanaians, who ranked among the world's poorest people, with an average daily income of $2.32, a 60 percent literacy rate, and 10 percent unemployment despite the country's potentially valuable natural resources.
In his first State of the Nation address on February 19, 2009, Mills announced an austerity program, promising steep cuts in government spending, beginning with cutbacks in wages and a review of the government's recent order of two presidential jets. He also instituted policies to eliminate four cabinet ministries and reduced the size of the presidential convoy. Mills presided over the commencement of the country's first commercial oil production in late 2010 and promised that the government would spend the newfound oil revenue responsibly.
In July 2011 the NDC selected Mills to be the party's candidate in the 2012 presidential elections; however, he died five months before the elections were to be held.
The following are a few of his activities and projects:
Member of the Ghana Stock Exchange Council
Board of Trustees, Mines Trust
Management Committee Member of, Commonwealth Administration of Tax Experts, United Nations Ad Hoc Group of Experts in International Cooperation in Tax Matters, and
United Nations Law and Population Project
Casebook preparation on Ghana's Income Tax Review of Ghana's Double Tax Agreement with the U.K
A track record of financial knowledge and strong professional credentials led to several important appointments:
In 1988, John Evans Atta Mills became the acting Commissioner of the Internal Revenue Service of Ghana and named Commissioner in September 1996.
In 1997, Prof. Mills received another important appointment when on January 7, 1997, he was sworn-in as the Vice President of the Republic of Ghana.
In 2002, Prof. Mills was a visiting scholar at the Liu Centre for the Study of Global Affairs, University of British Columbia, Canada.
In December 2002, John Evans Atta Mills was elected by his party to be its flag bearer and led them into the 2004 elections.
John Evans Atta Mills was reelected in December 2006 by an overwhelming 81.4%, beating three other contestants, to once again have the mandate to lead his party into the 2008 general elections.
January 3rd 2009-Professor Mills declared President-Elect in the 2008 elections. He had 4,521,032 votes representing 50.32 percent beating his rival Nana Addo Dankwa Akufo-Addo of the ruling New Patriotic Party (NPP) who had 4,480,446 votes representing 49.77 percent
January 7th, 2009 Professor Mills sworn in as the Third President of the Republic of Ghana.
He is married to Ernestina Naadu Mills, an educationist, and has a son, Sam Kofi Atta Mills.
Professor John Evans Atta Mills Died on Tuesday, July 24, 2012 at the 37 Military Hospital after a short illness.
Source: TheBBCghana.Com